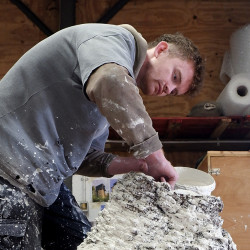 Luke Fuller
Ceramic Artist Sculptor
Introducing
Fuller's practice engages with our natural and industrial landscapes in order to question our current existence and understanding. His interest with industry and landscape stems from his family connections in South Wales, where for generations his forbearers worked in the Steel and Coal Mining industries, specifically Port Talbot where the Steel Works collides with the sea on one side and mountains on the other. The work he produces is underpinned by his first-hand experiences in landscape and within industrial settings. These encounters have created a strong sense of place in his practice, to fuel his fascination of abstraction, construction and disruption of form.
Using clay and other materials as a vehicle, he expresses his perceptions of landscape and the ambiguous relationship between humans and the natural environment. The works which are forged are records of Fuller's experience with clay and are examples of the immediacy the material offers. He manifests his thoughts and concerns through processes of construction and the physicality of making.
Luke Fuller graduated in Ceramics & Glass from the Royal College of Art in 2020, being awarded the Charlotte Fraser Scholarship for outstanding work. Since completing his BA in 3D Design & Craft at the University of Brighton in 2018, he has won several prestigious prizes and bursaries, including New Designer of the Year at the Business Design Centre, 2018; and the Nagoya University of Art, Grand Prize, 2018. Fuller has shown work internationally at various exhibitions including 'The Power of Material: From Virtual to Physical', The Design Museum, London, UK; FOG Design+Art in San Francisco, US; PAD London, UK; British Ceramics Biennial, UK. His work features in notable private and public collections, including the Victoria & Albert Museum, UK.
More examples of Luke's fantastic work can be found on his website or on Instagram @luke.fuller_
---
Request a Commission
---
Commissions Gallery