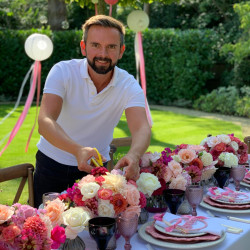 Milos Hynek
Introducing
A passion for flowers has always featured in my life. Floristry has never been merely a job — it has been very much more. Understanding the seasons and the place of elegant flowers, their shapes, scents, subtle colours and textures, all inform my choice to present stunning and unusual displays. I hope to be able to share my love of flowers and attention to detail with you soon.
Flower design delivered direct to you
Every week Milos chooses the freshest seasonal flowers for you. With precision, style and flair, he arranges them to match and coordinate with your personal style and taste. The result is hand-delivered straight to your door, guaranteeing a perfect, tailored flower arrangement for you every time. It's easy – Milos takes care of everything so you don't have to worry about a thing. You just benefit from a welcoming, stylish and gorgeous home or office.
---
Request a Commission
---
Commissions Gallery