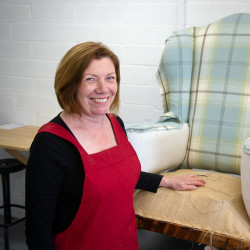 Trisha Anderson
Upholsterer
Introducing
Trisha's interests have always been creative. She has developed a love of vintage furniture and an appreciation of its design qualities and craftsmanship.
This has led to a passion for restoration and desire to give objects a new lease of life. Having trained in upholstery at the London Metropolitan University School of Art, Architecture and Design Trisha has learned to restore pieces with sympathy and sensitivity.
Traditional upholstery is a long established craft using natural materials that withstand the test of time. Trisha is committed to preserving a piece of history, preventing it from being assigned to landfill and to making it beautiful and loved once more, using the skill and craftsmanship that has gone before.
---
Request a Commission
---
Commissions Gallery